I finally received the Stellaris LMF120 LaunchPad from TI, which I ordered in September. I haven't started playing with it yet, but thought of posting about my thoughts of the board after having the first look.
Contents of the kit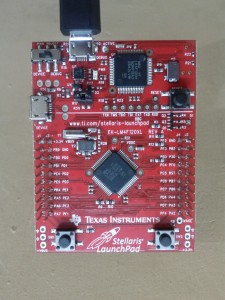 As promised by TI, I had the following components in the kit
The launchpad board
USB A to micro B cable
An instruction card
What surprised me was that there weren't any CD/DVD with the required software. I think for $5 you can't expect more 🙂
Two MCU's
The first striking feature of the board is that it has two LM4F120 chips. I guess one of them is used for on-board emulation, but I am not sure yet. There is also a device/debug switch on the board.
Two micro-B USB ports
The board also had two micro-B USB ports. I guess one is used for debugging the board and the other is used for connecting additional devices to the board.
Other components
The board also has a couple of buttons (I guess one of them is the reset switch), a RGB Led, two crystals, a current measurement jumper and couple of other components.
BoosterPacks
The GPIO pins are broken out into male pins (like Arduino) and they are pointing upwards. I suspected that it is for some kind of extension and then realized that Launchpad have an extension system called Booster Packs which is very similar to the concept of shields in Arduino.
Workshop
While visiting the link given in the getting started card, I came to know that TI conducts regular workshops which allows you to get started with Launchpad development. You can sign up for it from TI's website. I am planning to attend it when I get some free time.
Pictures
You can checkout some more pictures of the board at Flickr.
On the whole what I have got so far is definitely worth more than $5 which I paid for the board.
Next I am planning to start playing with the board by running the built-in "Out of the box" demo 🙂
Update:
I just ran the demo program in Stellaris LM4F120 LaunchPad.