I am starting a new series of articles explaining how you can create robots using Arduino. These are the same robots, that I used in my various talks.
I am planning to post the article every Friday, so that you will have enough time to try it out over the weekend.
Assumptions
I am going to assume, that you have basic knowledge of Arduino and electronics. If you can make LED's blink, then you are ready 😉
If not, you can use the following tutorials to get started. These were the same resources that I used when I started playing around with Arduino.
Soldering skill is not mandatory, but would be a plus. If you struggle with soldering (I still do 🙂 ), then refer to the comics soldering book by Mighty Ohm.
Parts needed
Any Arduino (Uno, Leanardo, Mega or one of the many clones) and the USB cable
2 DC Motors (preferably 6V)
12V Led acid battery and charger
Breadboard
Bot Chasis frame
2 (or 4) Wheels
Front support wheel
Screws, Bolts & Screw driver
LED, Light sensors, resistors, jumper wires etc
L293D IC (preferably in a breakout board). You can also use a Motor shield if you have one
Agenda
The following is the rough agenda, that I am planning for this series. Based on the feedback, I might slightly tweaked it a bit.
Introduction & parts needed
Introduction to DC motors
Using L293D and controlling DC Motor speed
Assembling the bot
Putting everything together
We will have a basic working bot by this time. It will look roughly like below.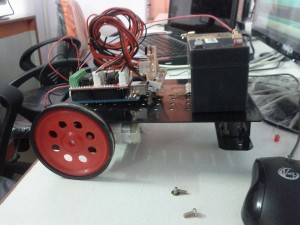 After that I will teach you how to do cool stuff with the bot. Right now I am planning to do the following.
Teach it bot to avoid obstacles using IR
Find how far it is from obstacles using Ultra sound
Control the bot using your Android device
Control the bot from a browser
In addition if you want me to write a tutorial on a specific feature, then do let me know by leaving a comment below and I will try my best 🙂
Happy Roboting 😉