Texas Instruments, low cost evaluation board for the ARM Cortex M4F based microcontrollers is available for ordering now. And can you guess the price? It is just $5. Yes it is just $5 😉
ARM Cortex M4F microcontroller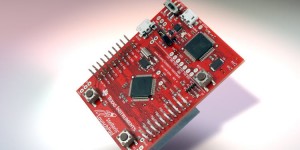 The main highlight of the Stellaris LaunchPad is its microcontroller. The LaunchPad comes with the surface mount LM4F120H5QR microcontroller which has 256KB of flash memory, 32KB of SRAM, 12 ADC ports, up to 43 GPIO ports and a huge list of supported interfaces. You can see the complete list in the LM4F120H5QR chips homepage. The chip also has USB 2.0 device interface and hibernation module and also has a built-in programmer.
Ordering
TI is selling the LaunchPad at $5 (including international shipping) as a promotional price and you can order it directly from them. They say that it would take around 2-4 weeks to ship it.
I am really excited and waiting to play with it. It is definitely worth waiting for 2-4 weeks for it to ship, especially if the shipping is free and you pay only $5 to buy it 😉
User manual (update)
The user manual for Stellaris Launchpad is also now available.